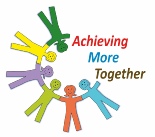 Copyright © All rights reserved


Godalming Learning Partnership makes every effort to maintain the accuracy of the information on this website but cannot accept responsibility for any loss or damage which may occur from the use of this information.
Godalming Learning Partnership may collect personal information from visitors to this site. This information is used only to respond to enquiries and to monitor site usage. Email addresses received as part of an enquiry are only retained as long as the enquiry remains open. Cookies and logging of IP addresses may be used to enable us to monitor site traffic and repeat visitor statistics. These statistics will not include information that can be used to identify any individual. Such information is anonymous and held on a temporary basis by the web server. We do not use cookies for collecting user information and will not collect any information about you except that required for system administration of our web server.
This privacy statement only covers the Godalming Learning Partnership website and does not cover links to other websites. When linking to another website Godalming Learning Partnership recommends that you read their privacy statement.
No name, address or specific user details are recorded from site visits and we will not attempt to identify individuals from such information unless necessary to investigate a breach of law or regulation.
When we provide services, we want to make them easy, useful and reliable. Where services are delivered on the internet, this sometimes involves placing small amounts of information on your device, for example, computer, tablet or mobile phone. These are small files known as cookies. They cannot be used to identify you personally.
There are 4 types of cookies that we may use:
Analytical cookies:
These cookies allow us to count the number of visitors to our website, and to see how they use it. These cookies don't gather information that identifies you. All information these cookies collect is anonymous and is only used to improve how our website works.
Functional cookies:
These cookies remember your preferences when you visit our website (i.e. language, font size, etc.).
Essential cookies:
These cookies are essential as they help our website function properly. They enable you to complete any online forms, submit applications, etc. They do not contain any personal information.
Other cookies:
Some of our web pages may use embedded content from third party sites (such as Twitter) and these sites may use cookies. Godalming Learning Partnership does not control how third party sites use their cookies. For more details you need to check their privacy policies.
Should you disable cookies?
We recommend you allow the cookies set by this website as they help our website to appear as you would expect. If you do not want to receive cookies from this website you can:
select and change Cookie Settings under the Privacy Settings in your Browser Options

add our Domain (www.godalmingconfed.org) to the list of websites from which you do not want to accept cookies.

Under settings you can also delete individual cookies or any cookies that your browser has already stored.
It may be that your concerns around cookies relate to 'spyware'. Rather than switching off cookies in your browser you may find that anti-spyware software achieves the same objective by automatically deleting cookies considered to be invasive.
Please note: If you choose to disable cookies then some of our applications may not work. Therefore, in order to get the best out of our website we recommend that you allow cookies.
You can find more information on how to delete and control cookies on the Directgov: Managing Cookies website.